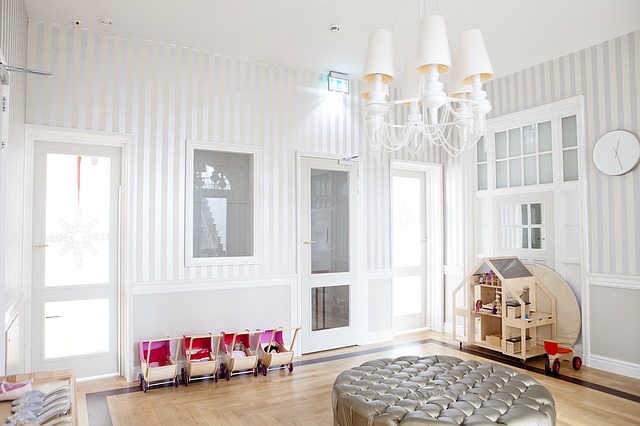 04 Jun

The 5 Best Flooring Options for your Children's Bedroom

The type of flooring you choose for a child's bedroom is a very important decision for you and your family, and many factors come into play before making a decision.

Luckily for you, we at Kennington Flooring can provide all the answers you need so you can feel confident in making the right choice.

For your child or children to get the most of his/her/their bedroom, the flooring should be:
Comfortable
Easy to clean
Soundproof, if possible
Durable
So with these factors in mind, here are 5 popular and recommended flooring choices to install in your kids' bedroom.
Carpet
A popular choice of bedroom flooring for parents for their children's bedrooms is carpet. Why? Because carpet is soft and acts as a safety cushion and padding for when injuries, trips and falls occur.
Carpet is also great at working as an insulator for the child's room, reducing any noise created by all the fun, games, jumping and playing.
Bear in mind however that carpets can be difficult to clean and kids can be messy. Darker tones are perhaps best to avoid unwanted stains.
Cork
Quite an unusual choice you might be wondering, but cork flooring is actually an excellent flooring option for children's bedrooms. Naturally soft and comfortable, cork floor tiles are able to absorb pressure and shock which is an added safety benefit for children, who may be prone to falls and dropping delicate breakable objects.

Cork flooring tiles also repel allergens, dirt, dust and bacteria, and as a natural product, cork is a great choice for homes with concerned with protecting the environment.
Rubber
Commonly used in playgrounds and play areas because of its ability to provide padding and a soft landing for falls, rubber flooring is comfortable, durable and a good choice for children's bedrooms.
Being sound absorbent, easy to clean, repellent of stains and low maintenance are just a few more reasons why parents choose this type of flooring for their child's bedroom.
Vinyl
Vinyl flooring ticks most the boxes for a lot of parents. It's inexpensive, high quality, resistant to water and stains. Being low maintenance and resistant to scratches and dents makes it a good choice for your child's bedroom.
We stock three categories of vinyl: lino, marmoleum, and cushioned vinyls –all which have various benefits for your child's bedroom.
Laminate
Laminate flooring has a certain softness and bounce that other hard floors don't have. It is also shock absorbent, comfortable, easy to clean and free of allergens which make it ideal for children's bedrooms. A simple sweep or vacuum is all it takes, however it is important to be careful not to scratch the floor.
So there you go, 5 fantastic and safe flooring options for your children's bedroom.
If you have any questions or would like further information about the different types of flooring for your children, please contact Kennington Flooring today.