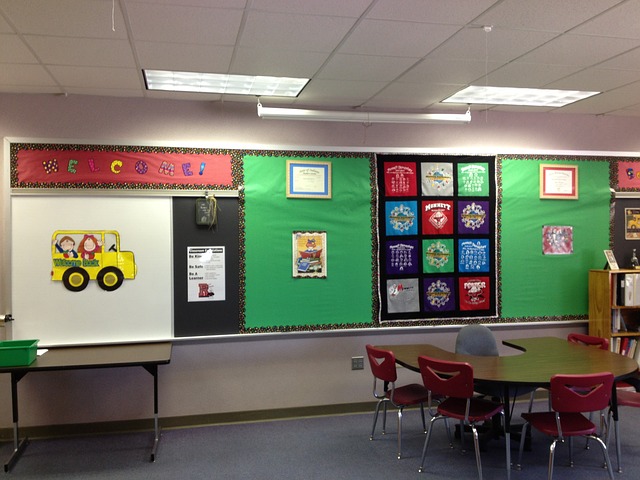 05 May

What's the best type of flooring for schools?

For nursery, primary and secondary schools, flooring must be able to withstand years of footfall. From corridor queues and assemblies to playtime and exams, a key element to choosing suitable flooring for schools is durability, whilst also considering how it looks and feels for the thousands of children and teachers who spend a lot of time in them each week.

So with that in mind, here's a range of suitable flooring types to install in a school.
Marmoleum
As a hard-wearing, durable, fun and colourful flooring, marmoleum flooring by Forbo can make a perfect flooring choice to install in a school. It's also very hygienic, easy to clean, scratch and stain-resistant and friendly for the environment, as it's made from 97% raw materials.
With a huge range of styles, colours, and flooring types available at Kennington Flooring, marmoleum is a fantastic choice of flooring for any classroom, corridor or reception area in a school.
Man-made carpets
Another great choice of school flooring, particularly for classrooms, is our range of Heckmondwike  Benefits of using man-made carpets are that they are soft to touch yet durable, stain resistant, easy to clean, sound resistant, have good colour fastness and can be a more affordable option for a school environment.
With a wide variety of styles, designs and colours, Heckmondwike can help create the perfect environment for children, teachers and other education staff.
Carpet tiles
Carpet tiles have natural acoustic properties which can lower the impact noisy classrooms. The tiles are also hard wearing and easy to replace if they get damaged or stained – you can simply remove the tile and replace it with a brand new one.
Heckmondwike is one of the leading choices of carpet tile for schools and have been manufacturing them for over 30 years, consistently delivering outstanding quality. Their carpet tiles are anti-static which makes them very suitable for rooms with PCs and are designed for easy installation and maintenance.
Another suitable choice to complement schools is Danfloor's commercial broadloom carpet tiles. Woven on a wide loom, these tiles are high performing and stylish.
Rubber
Rubber flooring can also be a wise choice of flooring in schools, especially for the younger children in play areas. Rubber flooring is easy to keep clean, head wearing and non-marking which are great benefits with young children around! It's also slip-resistant so you know pupils can limit serious injury if (when!) they fall.
Rubber could also be used in higher education classrooms where spillages could occur. A science class comes to mind. Altro are the pioneers of safety flooring, making them one of the leading safety flooring authorities and the go-to brand when choosing safety flooring for a school.
Oxfordshire's No.1 commercial flooring supplier and installer
For over 30 years, Kennington Flooring have been working closely with a variety of the UK's commercial flooring manufacturers which has enabled us to give consumers competitive prices. If you're looking for a flooring supplier and installer for your school, get in touch with the friendly team at Kennington Flooring today.