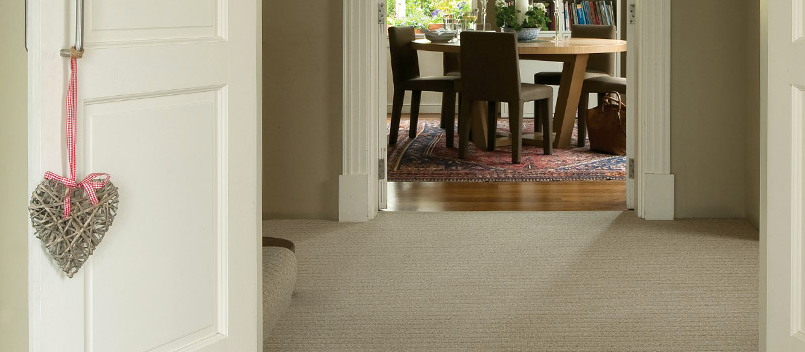 04 May

5 Trade Tips For Choosing The Perfect Living Room Carpet
Find the right living room carpet for your home

Whichever living room carpet you choose, you're going to see and use it almost every day. The living room is the focal point for many day-to-day activities and one of the most frequently used areas of your home. That makes finding the ideal living room carpet hugely important.
Sometimes called lounges or front rooms, living rooms let you to relax with loved ones, enjoy cosy evenings in front of the TV, and entertain guests. They're also places in which children and pets love spending time.
Because your living room serves many purposes, it's worth giving careful thought to the kind of carpet you need. Our living room carpet guide provides inspiration and insight, helping you choose the perfect floor covering.

1. Choose the best material for your needs

Today's carpets are made from three kinds of material: wool, wool mix, and man-made fibres. Each one has particular qualities and benefits.
Wool carpets are truly luxurious and will enhance the elegance of any living room. They're wonderful to walk on and durable. Wool is an excellent insulator and so will keep your living room warm and reduce noise.

Wool carpets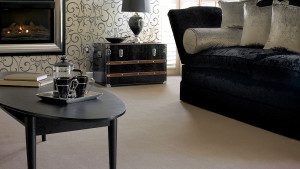 Wool carpets are destined to impress; for example, Kersaint Cobb pure wool carpets are sourced in Europe and New Zealand for a stylish appearance and sumptuous feel.
Find out more about the luxurious Kersaint Cobb brand.

Wool mix carpets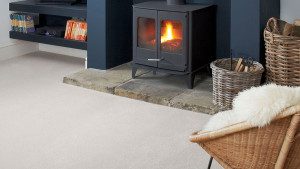 Wool mix carpets are chic yet practical, and so they're perfect for busy families. The wool mix carpets we offer are typically 80% wool and 20% man-made fibres. That means they're great insulators, resistant to wear-and-tear, and easily cleaned.
Those qualities are exemplified by Cormar Carpets' wool mix carpets, which are high quality and highly desirable. For classic British style, they're hard to beat.

Man-made carpets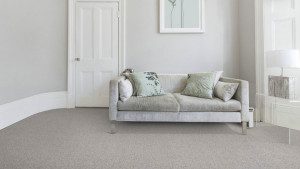 Man-made carpets are attractive and hardwearing. If you have young children or pets and therefore require high-performance living room carpet, a man-made blend is ideal. It can cope with heavy footfall, dirt, and spillages.
Mohawk's SmartStrand® carpets are particularly hard working: they eliminate pet odours in the carpet fibres by repelling moisture and also resist stains.

Top tip: carpets are graded according to how effectively they withstand wear-and-tear – the "heavy domestic" grade is suitable for living rooms.

2. Enhance your available space

As a general guide, neutral carpets work best in modest-sized living rooms, as pale colours make the space seem larger.
You can make a spacious living room feel cosy and inviting by fitting a dark carpet. Reds and browns work particularly well.

Top tip: for a touch of luxury that will enhance a living room of any size, choose a velvet pile carpet. Westex's Westend Velvet carpets are beautifully soft.

3. Try before you buy

The best way to form a clear idea of any living room carpet is to visit a showroom. You can examine the colour and texture of carpet samples and receive expert advice.
Simply pop into our Oxford carpet and flooring showroom, from Monday to Saturday, and we'll be delighted to help. We have over 3,000 sq. ft. of carpet and flooring samples, so you're bound to find the ideal product for your living room.

4. Never underestimate the importance of underlay

The key to making the most of your living room carpet and prolonging its life is to use underlay. It supports the whole carpet, helping to guard against indentations caused by bulky furniture such as sofas, as well as promoting even wear.
What's more, underlay provides a layer of padding that makes the carpet more comfortable underfoot. It provides extra insulation for your home, too.
Fitting your underlay by hand? Use our free, easy-to-follow guide.

5. Choose a professional fitting for a professional finish

Successfully laying a carpet requires considerable skill. A poorly fitted carpet is more vulnerable to damage and spoils the appearance of the entire room.
For the best results, it's always worth using a professional carpet-fitting service.  You can rely on our expert teams to lay your carpet efficiently and flawlessly. Our fitters are all fully trained and committed to a high standard of work. What's more, many of our teams have decades of experience.
Let us do the hard work, so that all you need to do is enjoy your new-look room!

To discover how we can help you transform your living room, please call our team today on 01865 401 700 or contact us online.