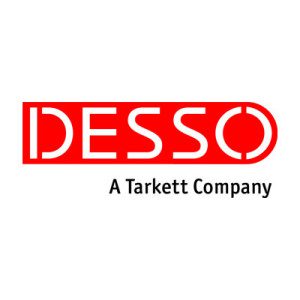 Desso Flooring
Desso are a leading European manufacturer of durable, high-quality carpets and carpet tiles ideal for a large range of commercial sectors.
Founded in 1930 in the small town of Oss in the Netherlands, Desso initially began by producing woven carpets for both the commercial market and homes. In 1980 they entered the artificial grass market, further broadening their audience to the sports sector. With carpets and tiles available in a huge range of colours and styles, Desso have flooring options for almost every room.
Following numerous acquisitions over the years, Desso have grown to be one of the most reputable names in the European commercial carpets market. The core reason for this is down to one key value: quality. Desso maintains the highest level of attention to design, materials, and manufacture, ensuring that every carpet and every tile meets its exacting standards. This can be further justified with customers such as the United Nations, Linz University in Austria, and Sedna Hospital in Mexico just to name a few.
Here at Kennington Flooring, quality matters, and we are proud to supply our customers with Desso's acclaimed carpets and tiles. With products such as the DESSO AirMaster® utilising innovative technology in order to be eight times more effective in capturing and retaining fine dust than smooth flooring, you can be sure a Desso Carpet won't let you down.
Our Range of Desso Flooring Products