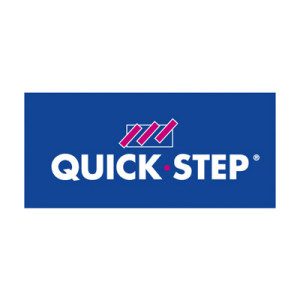 Quick-Step Flooring
With over 50 years of experience in the flooring industry, Quick-Step manufactures and supplies quality laminate and hardwood flooring for homes across the world.
They were the first company to go to market with their own brand laminate flooring in the 90s. Since then, Quick-Step have helped to pioneer the manufacturing and easy installation of laminate and hardwood lines, for timeless flooring that homeowners can effortlessly install and maintain.
In 2006, Quick-Step introduced anti-static, and then skirting board options into their range. Later in 2007, flooring suitable for bathrooms was introduced, and even a laminate alternative to parquet flooring in 2009.
Quick-Step have continued to innovate and improve their range, with the introduction of better quality real-wood effect laminate flooring, and quality hardwood floors. They have now taken their offering and developed it into further trends, with the introduction of laminate made from reclaimed wood from old floors, furniture and even fallen trees. Effects like these add another dimension to the floor and gives it a certain charm.
To avoid that feeling of looking too perfect, time-worn finishes are now also available. Quick-Step use a technique to add random cracks, marks and saw cuts to the flooring to give a feeling of something more weathered and rustic.
Colour is now also a big consideration with many choosing warmer tones or opting for grey wooden floors. Quick-Step are able to cater all of these requirements and continue to pioneer a wider range of colour choices.
Quick-Step are also committed to the environment. They do not harvest wood from exotic trees, with more than 75% of their wood chips coming from sustainable sources. This commitment is also echoed throughout a streamlined manufacturing process and a reduction in packaging and subsequent emissions, for a flooring supplier that you can value and trust.
Our Range of Quick-Step Flooring Products