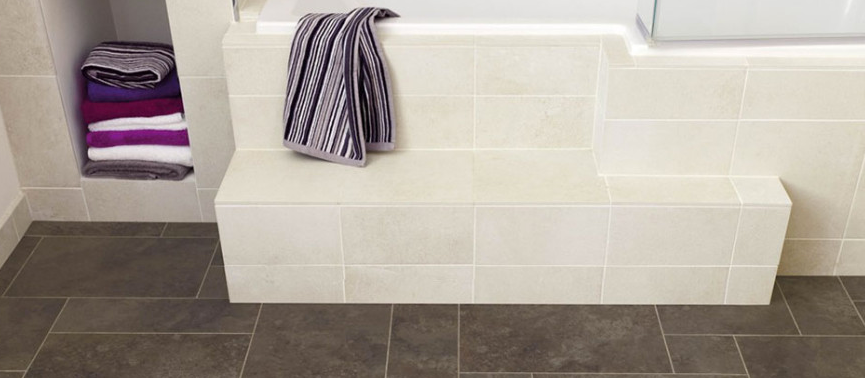 26 Apr

Laminate vs. Linoleum Bathroom Flooring: Which Is Better?
Choosing between laminate and linoleum flooring

Choosing between laminate and linoleum (lino) flooring is one of the biggest choices you will make when designing or refurbishing your bathroom. As a homeowner, you'll no doubt appreciate the allure of a stylish and comfortable bathroom. The right flooring will have a huge influence over this.
But which one is right for you and how should you choose?

Stylish laminate bathroom flooring

Laminate flooring exudes elegance and sophistication.  Available in a wide range of sizes, shapes, and colours, you're bound to find the perfect laminate for your bathroom design. One of laminate's best features is its ability to emulate the look of a wide range of hardwood surfaces and ceramic flooring.
An entire floor can be fitted in 36 hours, and because the laminate is not laid directly onto the subfloor, but interlocked using separate pieces, the material can bloat or compact due to changes in pressure and temperature without causing damage to the subfloor – ideal for the bathroom.
Shop our full range of wooden laminates today.
The benefits
Wide range of designs
Easy to install
Replicate the look of more expensive materials
Resistant to changes in temperature and humidity
Long-lasting

The downsides
Laminate flooring cannot be refinished, meaning that as they wear away or become damaged, individual boards will need to be replaced.
Laminate boards can feel hard underfoot and produce undesirable knocking sound against certain footwear.
The lifespan of your laminate flooring will depend on the thickness and quality of the material. We advise you to check the supplier's warranty before purchasing laminate flooring, to ensure you are covered.

With over 50 years of experience, Quickstep is one of our most popular suppliers of quality laminate flooring. Find out more about their exciting range. 

Modern bathroom linoleum

One of the traditional advantages of lino is price. More affordable than most laminates, lino has proven itself to be a good, inexpensive alternative. Thanks to improved technology and design, lino is now available in a wide range of stylish designs.
This type of flooring can be much more comfortable in a bathroom setting than its laminate counterpart. Not only is it softer on bare feet, but it can also be used with underfloor heating. Smoother underfoot and simple to clean, lino flooring is also a hygienic choice.
Shop our full range of linoleums now.
The benefits
Cost
Imitate the look of more expensive materials
Comfortable
Easy to clean
Hygienic

The downsides
Whilst cheaper and less expensive than laminate flooring, lino does require professional installation.
Compared to its laminate counterpart, it doesn't typically last as long and can scratch or wear more easily.

The matte finish on most lino flooring prevents most scratches from showing. When they do, however, you may find the only remedy is replacement.

With an emphasis on design, Amtico have established themselves as one of the UK's leading flooring suppliers. Find out more about their range of modern linoleums.
When weighing up the differences between laminate and linoleum bathroom flooring, it's important to consider what matters to you. We are proud to supply a huge range of bathroom flooring to homes throughout Oxfordshire and the surrounding counties.
Each of our bathroom flooring suppliers has been carefully selected to ensure that we only stock the highest quality products available. We also provide expert fitting services, delivered by in-house teams, some with over three decades of experience. Our customers' experiences matter a great deal to us; for flooring services and advice you can trust, visit our showroom today.
At Kennington Flooring we can help you select the flooring that is right for you and your bathroom. To talk to one of our friendly team, call 01865 401 700 or contact us online.