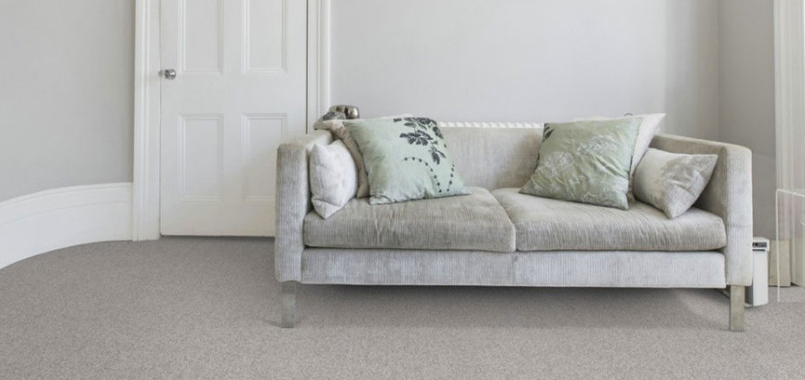 09 Feb

How To Fit Your Carpet Underlay

Most carpets require underlay in order to fit snugly and securely in place. If you're new to carpeting rooms, underlay is the layer of cushioning that sits underneath your carpet. Typically made from foam, felt, or rubber, carpet underlay makes your flooring more comfortable to walk on, helps to reduce wear underfoot, and adds an extra level of insulation to your flooring.

Installing underlay might sound challenging, but with the right instructions, it's incredibly easy. This article will provide you with all the information you need to fit your carpet underlay for a comfier, longer-lasting carpet.
How to fit your carpet underlay
Empty your room of all furniture and belongings and remove any existing flooring, so that you have a clean, well-prepared space to work in and clear access to corners and edges.
1. Roll out your carpet underlay across the full width of the room. Don't worry if there are small gaps or spaces missing as these can be filled in later.
2. You are now ready to cut your carpet underlay to size. It is better to have more than less – leave enough of the underlay to cover skirting boards and overreach doorways.
3. Now cut your carpet underlay more precisely. Carefully trim the underlay so that it reaches the doorway and the end of the carpet gripper. For the best accuracy, use the edge of the gripper to guide you.
4. If your floor is wooden, staple the edges of the underlay down. For concrete bases, pull back the edges and stick them to the floor using a spray adhesive.
5. Repeat this process for the next roll of underlay, and the next, until your underlay is completely fitted. Take your time – there's no rush.
6. Finally, secure the lines where separate rolls meet with carpet underlay tape. You are now ready to fit your carpet.
Underlay installation with Kennington Flooring
If you're still unsure about fitting your carpet underlay, don't worry. With over 30 years of experience fitting all flooring types, our teams are expertly placed to fit your underlay to the highest standards. All our fitting teams are currently employed in-house, and we pride ourselves on our professionalism, so you can be sure of Kennington-quality finish, every time.
Kennington Flooring carpets
Underlay is just the beginning. At Kennington Flooring, we're experts when it comes to helping you choose the right carpets. Whether you're re-carpeting a hallway or renovating your front room, the right carpet can transform the look and feel of your home.
Thick and luxurious, 100% wool is a luxury choice, infusing rooms with elegance and style.
Longer lasting and almost impossible to tell apart, a wool mix carpet can accomplish the same with little maintenance or upkeep required.
Man-made carpets

are the most practical choice, combining durability with a wide range of textures and colour ranges, ideal for hallways and family homes with young children and pets. 
Learning how to fit your carpet underlay might seem daunting at first, but really it's a simple and straightforward task. Follow our advice to fit your carpet underlay with confidence, and relax knowing that whichever carpet you choose, it will fit well and look great.
At Kennington Flooring we can help you select a carpet that is right for you and your home. To talk to one of our friendly team, call 01865 401 700 or contact us online.