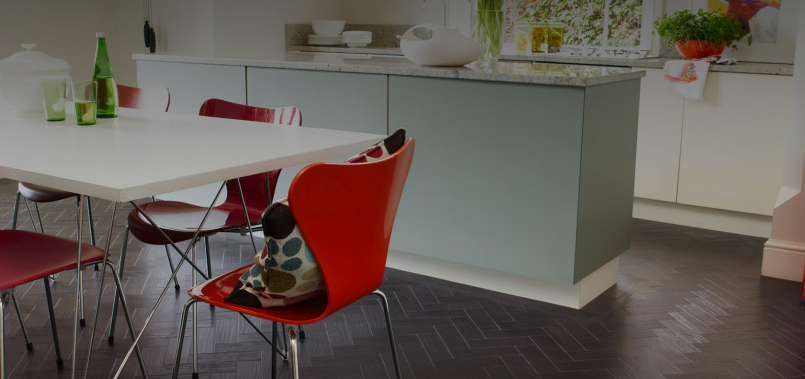 24 Mar

7 Top Tips For Choosing Kitchen Tiles
Why should you choose kitchen tiles?
Kitchen tiles are a popular and practical flooring choice throughout the UK. The kind of kitchen flooring you choose will have a huge influence on the room's overall look and feel. This is especially true of the kitchen, where shoes, spills, parties, and pets can quickly lead to damage and stains.
While styles and materials vary, tiled flooring generally consists of multiple tiles placed in a certain shape or design. The right tiles can provide a functional and stylish flooring solution for the busiest room in the house, but choosing the right tiles isn't always easy. To help, we've jotted down our 7 top tips for choosing kitchen tiles:
Our top tips for choosing kitchen tiles
1. Quality
Well-fitted, properly maintained tiles should last you for years. When it comes to flooring, quality means long life, and kitchen tiles are no exception. Find a reputable supplier, preferably local, who you can trust to advise and supply you with kitchen tiles that will hold their quality.
2. Styles
After quality, your first consideration should always be design. You will want a pattern or colour that suits your kitchen's existing style. Even new kitchens are designed with colour schemes and aesthetics in mind. Whether you appreciate bold colour patterns or mosaic tiles, you probably spend a lot of time in the kitchen, so choose a style that you love.
3. Easy installation
Sparing a thought early on for the practical side of fitting your new flooring can save you a lot of hard work and hassle later. Mosaic tiles and other complex patterns can be particularly challenging. If you're fitting your kitchen flooring tiles yourself, you want to ensure the tiles are simple to install, and that you can do so with household tools.
The alternative is to find a professional fitting service to lay your tiles for you.
4. Insulation
We all know how hot it can get in the kitchen! Well-insulated flooring can be used to trap this heat, reducing energy bills and household costs. Certain kitchen tiles also provide insulation against sound and pressure, for added comfort and quiet.
5. Comfort
You might have a young family, or perhaps you spend a lot of time in your kitchen with guests. If comfortable kitchen tiles are important to you, we recommend that you sample material choices firsthand. Touching the kitchen flooring tiles before purchasing them is the best way of finding out exactly how they feel and whether or not you like them.
An established flooring supplier should have a showroom that you can visit for just this purpose.
6. Material
All of the above can be taken into consideration by choosing the right material. At Kennington Flooring, we make this as simple as possible for you by recommending two main materials for quality kitchen tiles: laminate and vinyl. While they have their differences, both of these materials have properties that tick all of the above boxes for hardwearing, versatile, and practical kitchen flooring tiles.
7. Cost
Budget is often the deciding factor when choosing any kind of flooring. Both our laminate and vinyl kitchen flooring tile ranges are competitively priced, providing each and every one of our customers with the value they need to floor their kitchens with quality tiles at the best possible prices.
Find out more about our kitchen flooring recommendations. 
Kitchen floor tiles with Kennington Flooring
Our standards of service are second to none. Whether you're looking for flooring advice, are interested in making a purchase, or would like to enquire about our expert kitchen tiling services, we promise to look after you every step of the way.
Our product range includes a huge variety of tiled, natural wood, carpet, and safety flooring. Our friendly sales team can provide estimates and make recommendations, guiding you through the selection process. We also maintain a variety of expert fitting teams, some with over 30 years of experience to their name, guaranteeing you a professional finish to your flooring.
Over the last 30 years we have tiled kitchens across the county, building up a reputation as one of Oxfordshire's leading flooring suppliers along the way. We have drawn from this experience and passion to provide you with our 7 top tips for choosing kitchen tiles. We hope some of this information has been useful.
Done properly, a tiled kitchen is a beautiful thing. Take the time to plan your own for a real centrepiece to your home.
For more kitchen tiles advice, or to request an estimate, get in touch with the Kennington team on 01865 401 700 or contact us online.