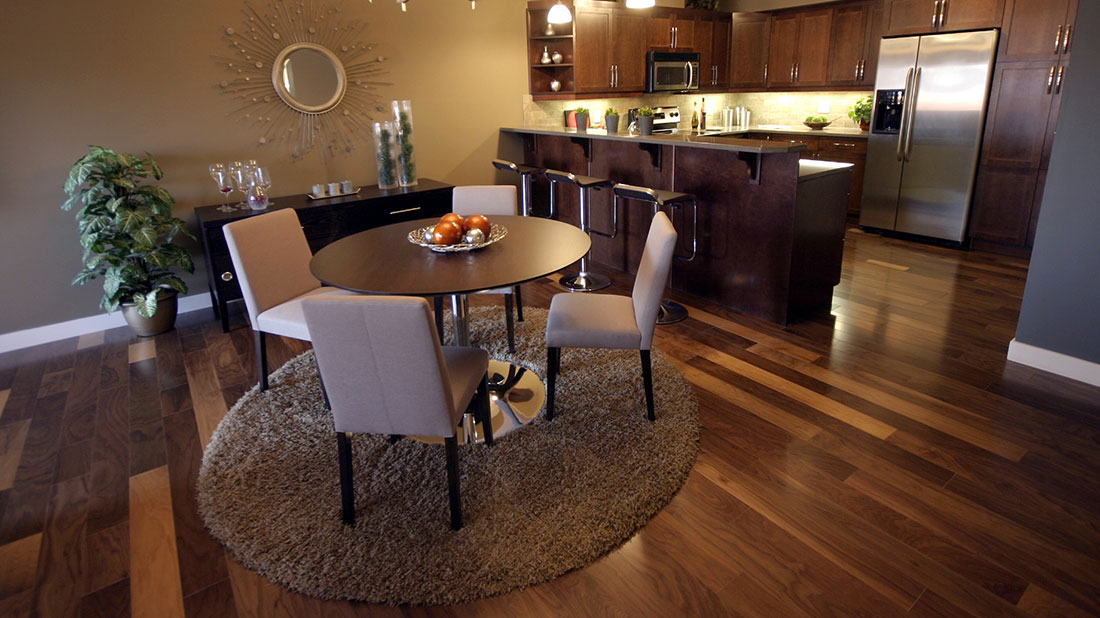 11 Feb

What is the best flooring for underfloor heating?

You can use a wide variety of flooring for underfloor heating, however some work better than others as they are better heat conductors. Here's a list of the flooring types you could use in your home with UFH.
Solid & Engineered Wood
In addition to having a timeless, cosy and warm appeal, solid or engineered wood flooring has a solid stability that makes it ideal for transferring heat with underfloor heating, on any level of flooring.
They're also one of the easiest floors to clean, are environmentally sustainable and come in a variety of styles, grains, patterns and finishes.
Note. Thinner wood flooring is better for increasing warmth however it must not exceed 27°C.
Ceramic Tiles & Stone
Tiles and stone are the best materials for transferring heat, which makes them a great choice for installing with underfloor heating in kitchens or bathrooms – perfect in chilly
weather!
Tiles and stone have a high thermal conductivity and can be heated up to 29°C. Not only that, they are durable, long-lasting, easy-to-clean and come in a range of different styles.
Vinyl & Linoleum
If you're looking for a high quality, long lasting and low cost option to complement underfloor heating, look no further than vinyl or linoleum.
Most commonly used in well-insulated rooms with lower heat requirements, this flooring option can be used to create a stylish and cosy setting. It's recommended to not expose it to high levels of heat however (max. 27°C) as it is more sensitive than other materials, such as wood or stone.
Carpet & Rugs
Carpet is a wonderful choice for your underfloor heating as its cosy, warm and soft underfoot. It is recommended not to use a carpet that's too thick however as this can limit heat transfer. As a guide you should use a carpet tog rating of 1.5 or below, and not exceed 2.5, when combining with an underlay.
We wouldn't recommend latex foam or felt underlays as the material could restrict heating of your room.
Read more about installing carpet with underfloor heating here.
Laminate
As a more cost-effective, versatile and practical flooring option, laminate can have the same warming "look and feel" as solid or engineered wood, whilst also being able to work well with underfloor heating.
Make sure to check the manufacturer's guidelines on it's maximum heating temperatures, as it's not as robust as solid or engineered wood.
Karndean FlooringA perfect choice for underfloor heating in bathrooms and kitchens as it's warmer and softer than ceramic or stone tiles in particular. Surface temperature must not exceed
27°C with Karndean flooring either.
When considering underfloor heating in your home, always ensure to follow these tips:
Always read the guidelines provided by your underfloor heating supplier before purchasing any type of flooring.
Always let your underfloor heating (UFH) supplier know which rooms will be used for carpet as this could adjust their installation plans.
Make sure your underfloor heating supplier is part of the National Trade Association.